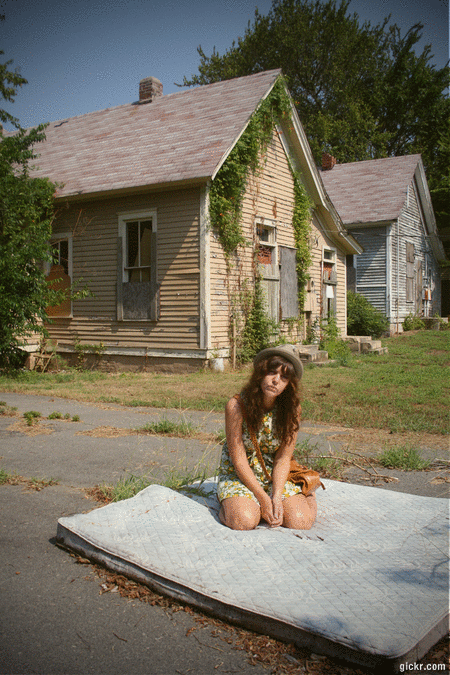 Vintage Dress: Borrowed from
Timely Vintage
Vintage Hat: Estate Sale $8
Purse:
Shop Dixi
Ofords: Thrift (from the free box!)
I took this set of photos right before I had my consumer collapse last week. I labeled them as a big fail at the time, mostly because I was exhausted from the sun and felt anything but pretty or stylish while I was taking them. When I stepped away from the blog for a second, I came back and realized they weren't so bad after all and that I actually didn't mind the way I styled
Annie's
dress (you know when you think you looked cute until you see pictures? yeah, that happens to me sometimes).
These two abandoned houses are located a few blocks from our apartment, next to the grocery store and what I consider to be the cut off for my self portrait explorations. It's all downhill from there other than the governor's mansion which pretty much separates the ghetto from the luxurious historic homes that have miraculously been rescued from ruins. I'm always scared to approach abandoned homes after walking into one a few weeks ago and finding two crackheads asleep on the floor. For the first time ever, I walked into a place with a half opened door saying:
"hello". . .
"hello". . .
. . . as if it were some scary movie or something.
No one responded. As I stepped through the door frame, my left eye caught a glimpse of the most beautiful vintage cherry wood vanity, but before I could even think about getting it home, my right eye spotted two people asleep on the floor. I ran out immediately.
Since then I've been scared to explore abandoned places by myself. Instead I like to enjoy all the great parts about the outside: the lush vines hugging the ones back and the white paint fading from the other, the old mattress perfect for a midnight star watch if not for the encroaching fear of it's past, the wood planks sealing up the doors and windows as if they're hiding some kind of secret. There's great stories to be found about these places even if they are just pieces of my imagination.